Review Pentewan Sands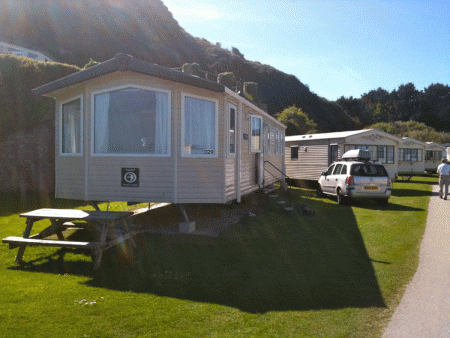 2 Years since we have been to Pentewan Sands near Mevagissey, we went to Hayle last year. We decided to go back to Pentewan mainly because the beach access is wonderful for Paige in her wheelchair, we can drive her chair down the area they use for boats and she is straight on the beach, it is also a lovely beach, so I thought it was time to do a review of this site. I would call this site an understated site, it does things quietly but with class, everything is kept in beautiful condition, the garden areas are full of colour and really cared for. It is a small site compared to many and each van has plenty of room around it so you are not looking into the next van, we also go for the vans with wonderful sea views, you are just a few hundred yards from the beach and the sea.
This year they have open there new leisure complex, it used to be a small outdoor pool which was very nice but if the weather changed then it shut, now they have a beautiful indoor family pool and also an adult swimmers pool, plus a new gym with the latest machines, upstairs there is a very smart restaurant and also an open deck type area for families to have a drink or meal, this leads onto a veranda which looks out to sea with stunning views, the whole complex is really very smart and well thought out, also it is very wheelchair friendly, although the changing rooms for disabled are not great the staff are wonderful and the vans close enough to do a quick dash back from the poola nd finish off their.
We took Paige swimming every day which she loved they have a good disabled cabin apart from the fact it has no place to lay her down so it had to be on thick towel on the floor but it is large and with a lovely shower, we took her chair to the side of the pool and just popped her into the water which was a nice temperature, it really added to her holiday, we then took her upstairs in the lift they have for a meal, everyone was really helpful and thoughtful.
We stayed the week in a three bedroom static caravan which had 2 toilets and a really good shower room, it had central heating in all the rooms and was very comfortable, but it is proving more difficult now to have Paige in a van as the door ways into the bedroom are so narrow we struggle to carry her in, so it maybe that we have to find different accommodation soon, but for this year she had a wonderful holiday at a really good family site
Thought I should mention the park also has two childrens play areas, one on the beach, plus a shop, good laundry room, and a games room which has a small selection of slot machines which we manage to avoid, all in it is a good family destination.