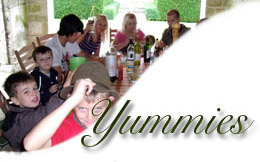 Ingredients
250g of Pasta Bowes or Sprials
2 or 3 medium courgettes I used yellow and green
2ozs Olive Oil
3ozs butter
3ozs grated Parmesan or Cheddar, plus a little extra for shavings of Parmesan to dress it
small punch of parsley chopped fine
2 cloves of garlic
Half a small goats cheese crumbled into small pieces
small bunch of fine asparagas
zest of a fresh lemon
Summer Pasta
I have been making this dish for so long now I decided last week as it is courgette season to give it a bit of a makeover and it had really nice results, although if cooking for the children I would stick to the simple version. This is so simple, great for people who grow there own courgettes and find they have too many all at once, also make a great meal for vegetarian's. The dish is light and fresh tasting and goes so well with a chilled Pinot Grigio.
The main difference to this upgraded version is the addition of crumbled goats cheese, asparagas and zest of fresh lemon with small drizzle of olive oil over the dish at the end.
Method
Slice the courgettes into thin rounds
Heat the oil gently in a frying pan
Add the garlic peeled but not chopped
Gently let it colour then take it from the oil, it is only to flavour the oil
boil the asparagas for about five minutes then drain in cold water and set aside
Saute the courgettes in the oil till soft
While they are gently cooking put your pasta on to boil and cook
In a warm serving dish allow the butter to melt then place the cooked pasta in it and the courgettes, parsley, parmesan and salt and pepper, add the asparagas and crumbled goats cheese
Gently combine it altogether, then serve, I also added shavings of parmesan as I love it, zest a lemon over the top and a good grind of black pepper, do taste first as this dish does need to be seasoned
Notes
This amount serves 3-4 for lunch or two for supper. Plenty of salt and black pepper for seasoning it goes so well with chunks of good crusty bread.