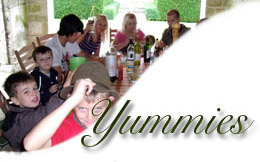 Ingredients
2 Skinless Chicken Breasts
2-4 rashers of streaky smoked bacon
1 Can of Ratatouille
2 Finely chopped mushrooms
1 chicken stock cube
1-2 Tablespoons of double cream.
Susie's Cheats Chicken Supper
This recipe is for those of us who like to cheat occasionally but still want good food as the end result, great after a hard day at work.
I make this for two adults but it is quite easy to double up if it is for four.
Method
Wrap the bacon around the chicken breasts and place on a backing sheet in the oven 20 minutes temp about 180
While that is cooking mix together the ratatouille, mushrooms, cream and make the stock cube up so you have 3 fluid oz. of stock and add to the sauce.
Gently warm this, and when the chicken comes out of the oven put the chicken in an open oven proof baking dish pour over the sauce and put back in the oven for another 15-20 minutes, enjoy with little potatoes or rice and the must have Glass of dry white wine.
Notes
This also work well using pork chops but without the bacon, and I will be putting up a recipe that uses the chicken wrapped in bacon but with a very easy wine and tarragon sauce, coming soon