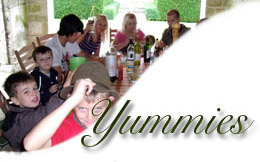 Ingredients
2 large table spoons ground almonds
2 skinless chicken breasts
2 to 3 tablespoons (30 to 45 ml) olive oil
1 tablespoon (15 ml) butter or margarine
1 fresh green chilli finely chopped
half a large white onion finely chopped
1 good sized tomato, finely chopped
1 clove garlic minced
half a pint chicken stock or broth
¼ teaspoon salt
quarter pint of single cream
1 good sized teaspoon of ground cumin
Tomato wedge
Fresh coriander sprig
Almond Chicken (Pollo Amendrado)
Ok folks this is an update to this fantastic recipe, I cooked for my niece  when she stayed with me recently. When she got home she made it following my recipe, she is not a experienced cook but she is a good cook. She got back to me saying some of the measurements are in American weights and hers did not taste the same. All good points I did get this recipe from an old Mexican cookery book and as I cook by instinct with lots of tasting along the way it was not a problem for me, but I cooked this again last night and decided to put the recipe up the way I cook it in everyday measurements. I need feed back like this so that things work well, so Katy try this again and this time it is full proof. A real favorite of my husbands, it has also proved very popular with many friends who have asked for this to be put up. This dish can be severed with Mexican rice or just plain rice but I have also served it with new potatoes it is so versatile, the chicken breasts stay moist as they are cooked in the sauce and the ground almonds give it such a richness, it is a lovely dish
Method
Dip chicken in almonds on small plate to coat all sides; reserve remaining almonds.
Heat 2 tablespoons oil and the butter in deep frying pan over medium heat until foam subsides. Add the chicken breasts without crowding. Cook until chicken is a good brown colour on both sides, about 3 minutes per side, reducing heat if almonds get too dark; remove to plate.
Add remaining 1 tablespoon (15 mL) oil and the onion and chilli to pan; saute over medium heat until soft, about 3 minutes. Add chopped tomato, cumin and garlic; sauté 1 minute. Add stock, salt and reserved almonds; heat over high heat to boiling.
Add chicken to pan; reduce heat to low. Simmer, covered, until chicken is cooked through, 15 to 20 minutes. Remove chicken to serving dish; keep warm, covered. This timing is depending on size of chicken breasts if very large give an extra 5 minutes
Add cream to cooking liquid; heat over medium-high heat to boiling. Cook and stir until sauce is slightly thickened, 3 to 5 minutes; pour over chicken. Garnish with tomato wedge and coriander.
Notes
Makes 2 servings and it freezes well just make sure it defrosted well and then microwaved to reheat